Posted: Wednesday, April 25, 2018 - 10:43am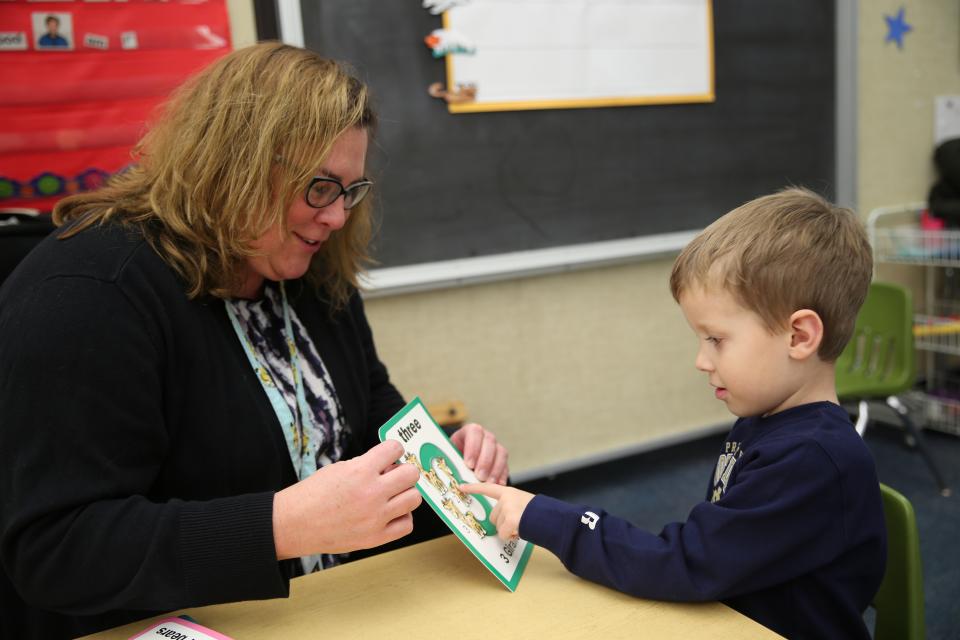 The P-H-M Education Foundation announced its Spring Grant Cycle recipients. A total of $17,169 will be disbursed to P-H-M staff for this grant season. 
Since the Foundation's inception in 1996, $1 million has been distributed in innovative teaching grants supporting P-H-M teachers, staff, and students! The Grants Committee is comprised of Foundation board members, community representatives, and a P-H-M administrator who evaluate each grant application. 
A complete list of the Spring 2018 Grant Recipients is below. 
EZ Grant award winners:
Social Studies Podcast
Discovery Middle – James Howard
Awarded: $219.96 – Funding for Blue Yeti microphones
Core Balance Discs
Elm Road Elementary – Sara Pillow Bowen
Awarded: $167.88 – Alternative seating of balance discs
Breakout EDU in the Library
Horizon Elementary – Adrian Selmon
Awarded: $150 – Breakout kits for 12-month access and 10+ subject packs
Presenter Tool Addition
Northpoint Elementary – Nichol Mondy
Awarded: $44 – Wireless remote for slideshow presentation
Preschool Portfolios for Penn PALS Preschool
Bittersweet Elementary – Kristi Vandygriff
Awarded: $249.68 – Materials to create student notebooks
Girls Empowered
Penn High School – Derrick White, Amanda Bates, Emily Lehman
Awarded: $250 – Materials and food for monthly meetings
Student Feedback Conference
Walt Disney Elementary – Jordan Binion
Awarded: $200– 1-day conference fees
Wiser with Words
Elsie Rogers Elementary – Dorene Pond
Awarded $146 – Vocabulary games
Future Problem Solvers of Second Grade
Elsie Rogers Elementary – Holli Truckowski
Awarded $84 – Math program's teacher manuals
Classroom Digital E-writing tablets
Elm Road Elementary – Courtney Miller
Awarded $250 – Funds to support digital tablets in the classroom
Preschool Treasures
Mary Frank PALS Preschool – Theresa Byszewski
Awarded $250 – Learning toys for preschool students
The Heat Is On
Penn High School – John Gensic and Jon Lockwood
Awarded $230 – Funds to purchase infrared camera. 
Learning That Sticks
Moran Elementary – Stephanie Strasser
Awarded $115.50 – HeidiSongs for use as learning tools
Drill to Success: Free the Puma
Prairie Vista Elementary – Shelley Lebiedzinski
​Awarded $250 – Reward program that includes animal presentation and entry to the zoo
Reading Hawk's Celebration
Meadow's Edge Elementary – Becky Richhart
Awarded $250 – Fun day for a reading reward program
Be An InspiraSUN: The Lunch & Learn Café
Horizon Elementary – Jessica Moore
Awarded $250 – Activity station and organizational materials
STEM
Prairie Vista Elementary – Rose Montgomery and Michelle Sanchez
Awarded $199.96 – Magnetic tiles for STEM program 
Full Funding/Traditional Form Grants approved for $250 or more:
Make It Fun; Make It Stick
Elsie Rogers Elementary – Carlye Ponsler
Requested $697.89 — Received $697.89
Some of the most difficult skills to master in third grade are multiplication facts and fractions. MUGGINS! Math Games are hands-on materials that build thinking skills and increase self-confidence through award-winning board games and manipulatives.

Dot & Dash Club Pack
Title 1 Elementary Schools – Jessie Kinney
Requested $784 — Received $784
Dot and Dash Club Pack will help students for the future and open them up to learning and understanding the language of code. This pack will expand the teacher's current technology with two Dot robots, four Dash robots, two launchers, and two challenge card boxes.

Promoting Literacy and Learning Through Self-Created Imagery
Discovery Middle – Whitney Emeigh
Requested $3,000 — Received $3,000
This project will offer students new ways to display artwork, create projects, and advocate for in-building programs. The poster maker has a design feature allowing students to create digitally bright visuals; the scan feature turns hand-drawn materials into a professional project; and also has a laminator component.

Tablets for the Elementary Classroom in PLTW and Bittersweet
Bittersweet Elementary – Matthew Bodnar
Requested $2,682.28 — Received $2,682.28
Currently, the school only has one tablet that is utilized under a document camera. This grant funds eight iPads so a classroom of 32 can work in group of 4 for small group work. With this set of tablets, students will be able to complete modules for Project Lead the Way.

STEM Boxes
Bittersweet Elementary – Michelle Leniski
Requested $733.81 — Received $733.81
The STEM boxes will be filled with innovative instructional materials for students to explore and discover Science, Technology, Engineering, and Math topics. Each classroom table will receive a box and within each box will be a task with instructions. Each box is designed to create opportunities for students to discover and apply real world problems through creative learning tools.
Partial Funding:
Increasing Cultural Awareness & Library Diversity in Middle School Libraries
All P-H-M Middle Schools – Luann Mayer and Rachel Givens
Requested $2,958 — Received $1,500
An intercultural library will be created allowing multi-lingual students from Discovery, Grissom, and Schmucker to access a variety of books which focus on characters with diverse backgrounds, ethnicities, and languages.

Break Time Boxes
Elm Road Elementary – Audrey Kim
Requested $2,000 — Received $1,864.74
Materials will build upon a previously Foundation funded program and expand the capability of the program. The goal of Break Time Box is to let challenged students use manipulatives to calm themselves in the classroom setting.

Tablets for Apps
Discovery Middle – Tim Braunsdorf
Requested $2,879.84 — Received $2,600.19
Tablets will be used in PLTW classes that will support developing mobile apps. A major component of the class is the use of MIT App Innovator software that allows students to develop mobile apps for the android operating system