Posted: Saturday, November 14, 2015 - 10:47am
By Lucha Ramey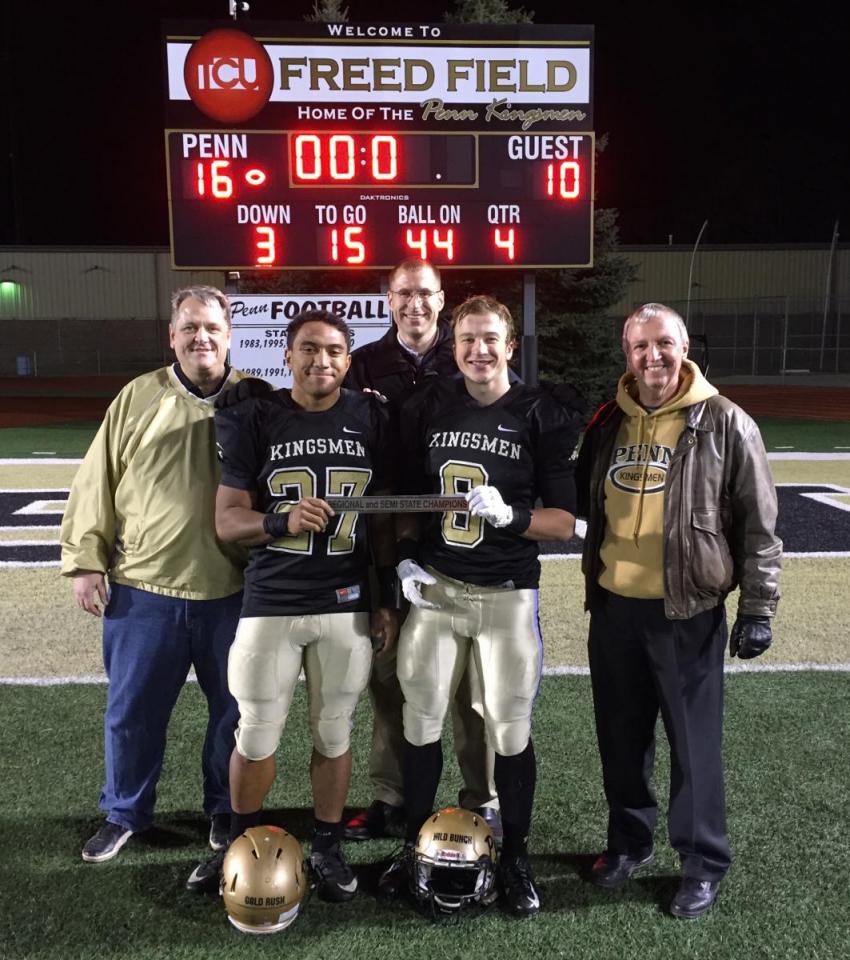 Penn Principal Steve Hope, athletic director Aaron Leniski and Penn-Harris-Madison Supt. Dr. Jerry Thacker (pictured left to right) celebrate the semistate championship victory against Carmel with Kingsmen seniors Cedric Vakalahi and Jason Alexander.
Penn High School's Kingsmen knocked off No. 2-ranked Carmel, 16-10, Friday night in the Class 6-A northern semistate championship game to punch their ticket to the state championship game.
Coach Cory Yeoman's No. 4-ranked Penn Kingsmen (12-1) will take on No. 1 Center Grove (13-0) on Saturday, Nov. 28, at 7:05 p.m. at Lucas Oil Stadium, the home of the Indianapolis Colts. Ticket information will be announced later.
Quarterback Camden Bohn scored a touchdown on a tackle-busting seven-yard run with 3:59 left in the second quarter, using a spin move to blast into the end zone. The only Kingsmen TD gave Penn a 10-3 lead.
Jason Alexander intercepted a Carmel pass at the Kingsmen 38  and return it 24 yards to set up the Penn TD drive.
Kingsmen senior Sam Scholtes booted three field goals – 21 yards, 40 yards, and 38 yards – to supply Penn with the rest of its points.
Bohn led Penn's offense with 13-of-17 passing for 169 yards. He also rushed for 66 yards.
John Ohlson hauled in nine passes for 116 yards.
Will Vakalahi led Penn's defense with nine tackles, including one tackle for loss. 
Kobe Woods hammered Carmel for seven tackles.
Austin Laughman also had an interception for Penn.