Posted: Tuesday, November 3, 2015 - 9:08am
By Lucha Ramey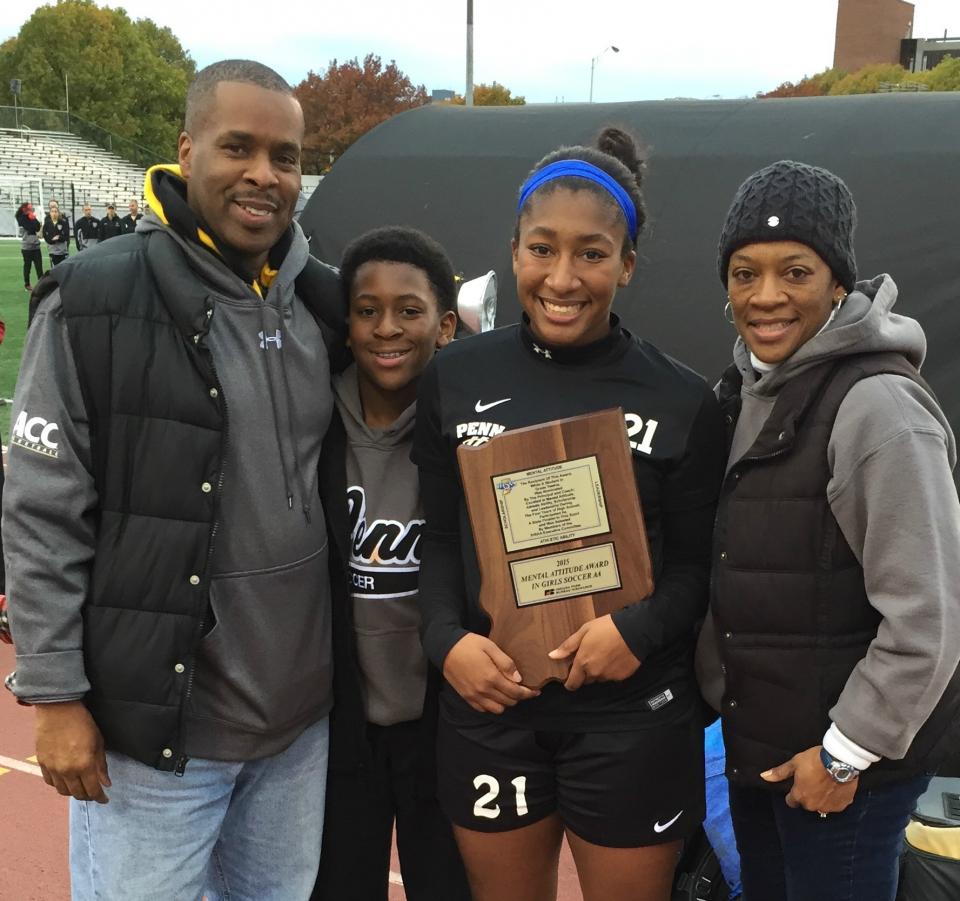 Penn High School student-athlete Kamra Solomon was named the winner of the Indiana High School Athletic Association Mental Attitude Award on Saturday following the Class 2-A girls soccer state championship game in Indianapolis.
 
Solomon, a senior, is the 21st Penn High School student-athlete to win the IHSAA Mental Attitude Award.
 
"There is no greater individual award for a student-athlete than a mental attitude award," Penn High School principal Steve Hope said. "We have pride in having a Penn student win a prestigious award that factors in academic achievement, sportsmanship and athletic accomplishment."
 
Penn girls soccer coach Jeff Hart said that Solomon has been a difference-maker for the Kingsmen, who finished state runner-up this season. "We have a lot of special seniors, but obviously, Kamra stands out," Hart said. "She stepped on our practice field as a freshman and was a starter from Day 1. Then, we named her a captain her sophomore year. For the first-time in school history, we had a three-year captain," Hart recounted.
 
"Kamra continued to elevate her game throughout her career. She was a first-team all-state player as a junior. She's just such a well-rounded, outstanding, young student-athlete who keeps things in perspective." Hart said that Solomon carved out a lasting legacy as a leader. "Whether she's trying to show leadership to a great young player, or a girl who isn't getting much playing time on the JV, Kamra treats all kids the same, and kids respond to that type of student leadership," Hart said. "We're going to miss her a lot, as we're going to miss all of our seniors, but she's going to do great things in the future. She's made a huge impact on our program."
 
Solomon is the daughter of Anthony and Tracy Solomon. Anthony Solomon is an assistant basketball coach on the University of Notre Dame men's basketball staff. Tracy Solomon is a former track star at the University of Virginia.
 
Kamra Solomon credited her parents for teaching her about leadership. "My mom has a really strong personality, so I'm really outspoken, but my Dad is the one who, says, 'You have to stick up for yourself. If you want to be a leader, then you have to try to do what's right, and people will follow.'"
 
Solomon said that she was grateful for the award: "It really means alot," Solomon said. "It speaks to what my coaches and the administrators think of me. I tried to be a leader in this program, but really, my teammates have helped me. It was a team effort."
 
PENN IHSAA MENTAL ATTITUDE AWARD WINNERS
1983-84, Football (4-A), Mark Plencner
1989-90, Football (5-A), Eric Kline
1992-93, Girls Cross Country, Jill Nace
1995-96, Football (5-A), Matt Geesman
1996-97, Football (5-A), Scott Becker
1997-98, Baseball (4-A), Blake Gaugler
1997-98, Football (5-A), Brad Monhaut
1999-00, Boys Soccer, Matthew Abbott
2000-01, Football (5-A), Justin Smith
2002-03, Girls Tennis, Lauren Woodward
2003-04, Girls Golf, Casey North
2003-04, Football (5-A), Wade Iams
2004-05, Girls Cross Country, Laura Carr
2005-06, Boys Tennis, Chris Jordan
2010-11, Girls Basketball (4-A), Ashley Lutz
2011-12, Girls Golf, Deanna Song
2011-12, Volleyball (4-A), Kaitlyn Hickey
2011-12, Football (5-A), Patrick Adkins
2014-15, Wrestling, Chase Osborn
2014-15, Baseball (Class 4-A), Tim Lira
2015-16, Girls Soccer (Class 2-A), Kamra Solomon