Posted: Monday, June 22, 2015 - 9:15am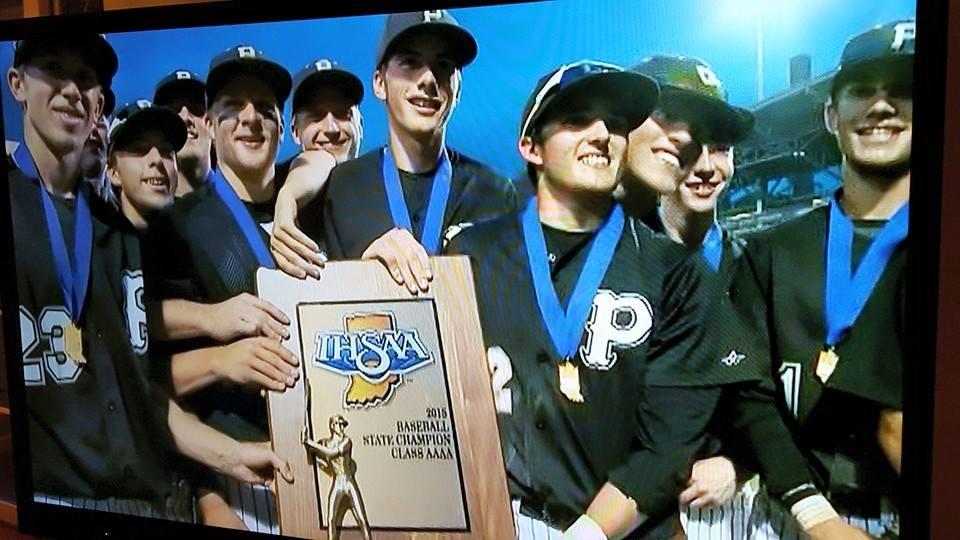 The Penn Baseball team capped a terrific season with a 3-2 win over Terre Haute North in the 4A State Championship game on Saturday, June 20. The win was celebrated by a jubilant team and hundreds of fans at Victory Field in Indianapolis under the lights. While not a nail-biter, the match-up was not a walk in the ball park either. Penn took and held an early lead but Terre Haute fought back, bringing it within one run in the fifth inning. Penn pitcher Skylar Szynski brought renewed focus to his game and he and the Kingsmen settled it in six innings.
Following the game, senior catcher Tim Lira was named the L.V. Phillips Attitude Award winner. The award recognizes not only Lira's athleticism, but his leadership among his teammates and his contributions to the community.
The recipient of IHSAA's L.V. Phillips Attitude Award is a senior nominated by his principal and coach and must excel in mental attitude, scholarship, leadership and athletic ability. The award is named in honor of the late L.V. Phillips, who served as the second commissioner of the IHSAA from 1945-1962.
This is the fourth state championship for head coach Greg Dikos, whose other big wins came in 1994, 1998 and 2001. This is the last state championship for Penn's retiring athletic director Ben Karasiak, who was clearly thrilled to be on the field as the honors took place.
A public celebration will take place Monday, June 22, at 6:00 p.m. in Penn's Main Arena. Students and community members are invited to be on hand to cheer the team bringing home the trophy!   
Posted June 22, 2015 / 9:20 a.m. EDT