Posted: Wednesday, March 2, 2016 - 10:43am
By Jill Spencer
Ignite Michiana is a recurring event that brings the community together to learn about great initiatives and progressive ideas with local impact. The format is fast and fun: A dozen or more speakers have five minutes each to "pitch" an idea, striving to get the audience's attention and in some cases to leave with pledges of support. Each presentation is enlivened by a fast-paced slideshow and each speaker high fives the next one when passing off the microphone. Ignite Michiana events are lively, to be sure, but more importantly they succeed at creating a sense of community and helping people connect on causes.
Ignite Michiana's theme on Feb. 25 was "Cleared for Take-off" and fittingly, the crowd of 700+ attendees gathered in the Studebaker Hangar on the grounds of the South Bend International Airport to hear 14 youth leaders from this community speak about what's on their mind and in their future. Co-Sponsor of the event was St. Joe CEO, a business-backed community initiative that gives a selected cohort of high schoolers with an entrepreneurial bent a year of leadership experiences and an opportunity to earn dual (high school and college) credits.
Three P-H-M students presented to a very receptive audience at the Feb. 25 event, and each did a remarkable job. Here's a recap: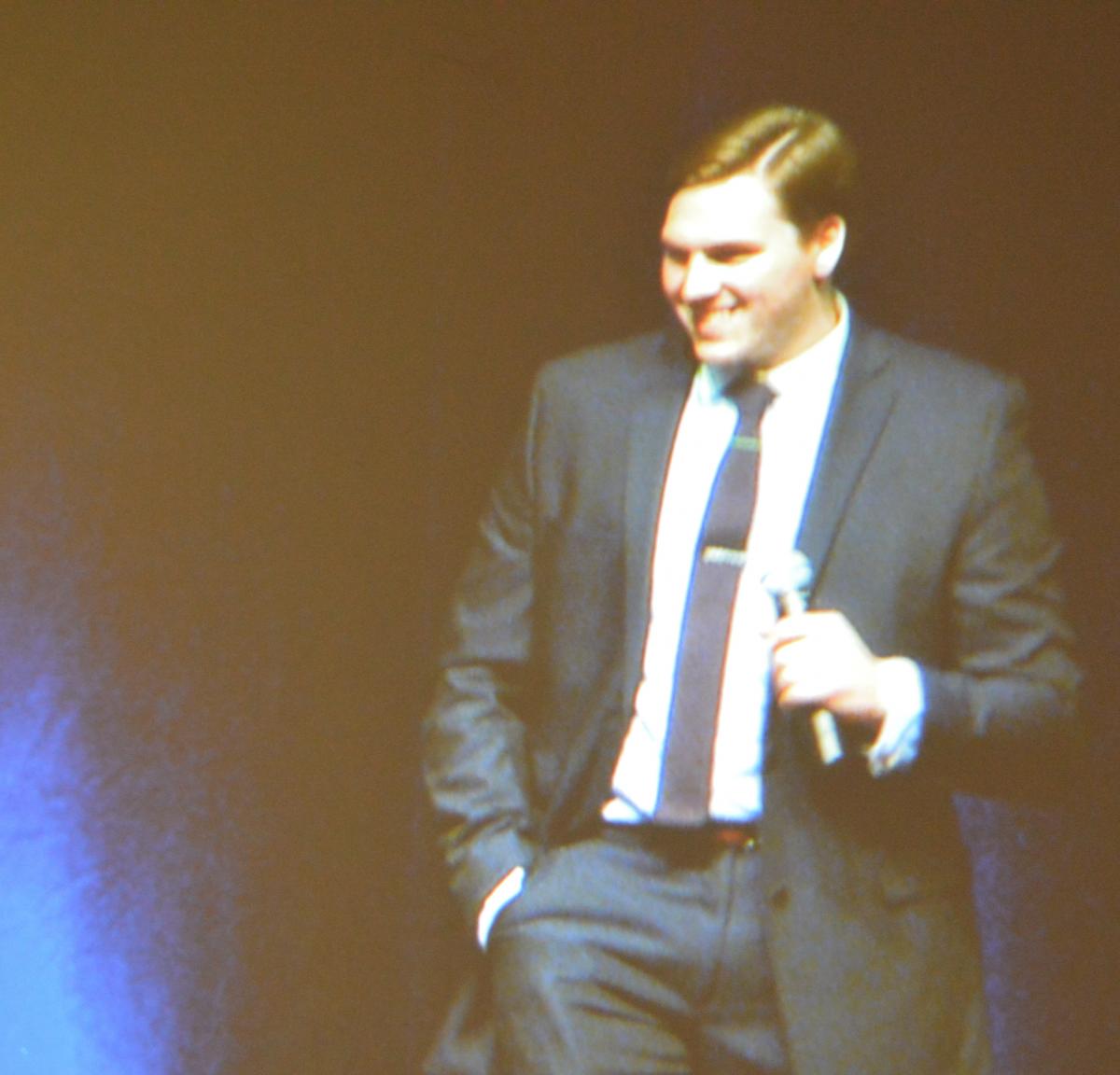 Zach Biggs, a gregarious Penn senior, served as one of two hosts for the evening. He and his partner managed all the announcements, segues and "extras" (even leading a Happy Birthday sing-along for a surprised guest) with enthusiasm and poise.
The evening's printed program notes say this about Zach: Captain of the Varsity Rugby team, president of the Spirit Club, school mascot and DECA participant, these are just some of the activities Zach participates in. In the summer Zach works as a fry cook in the Jr. Grill at the Morris Park Country Club; he's also one of the Kids Club leaders at the country club. Through his work Zach has learned many important customer service skills such as patience and communications. He is a passionate leader, and works well in a group setting. He enjoys being with his friends, playing rugby, and working out in his free time. Zach is excited about being enrolled in the St. Joe CEO program and about what the future holds.
The program notes about Hunter Reynolds tell just part of his story: Hunter is a sixth grader at Schmucker Middle school, and tonight he will share the journey of creating his very own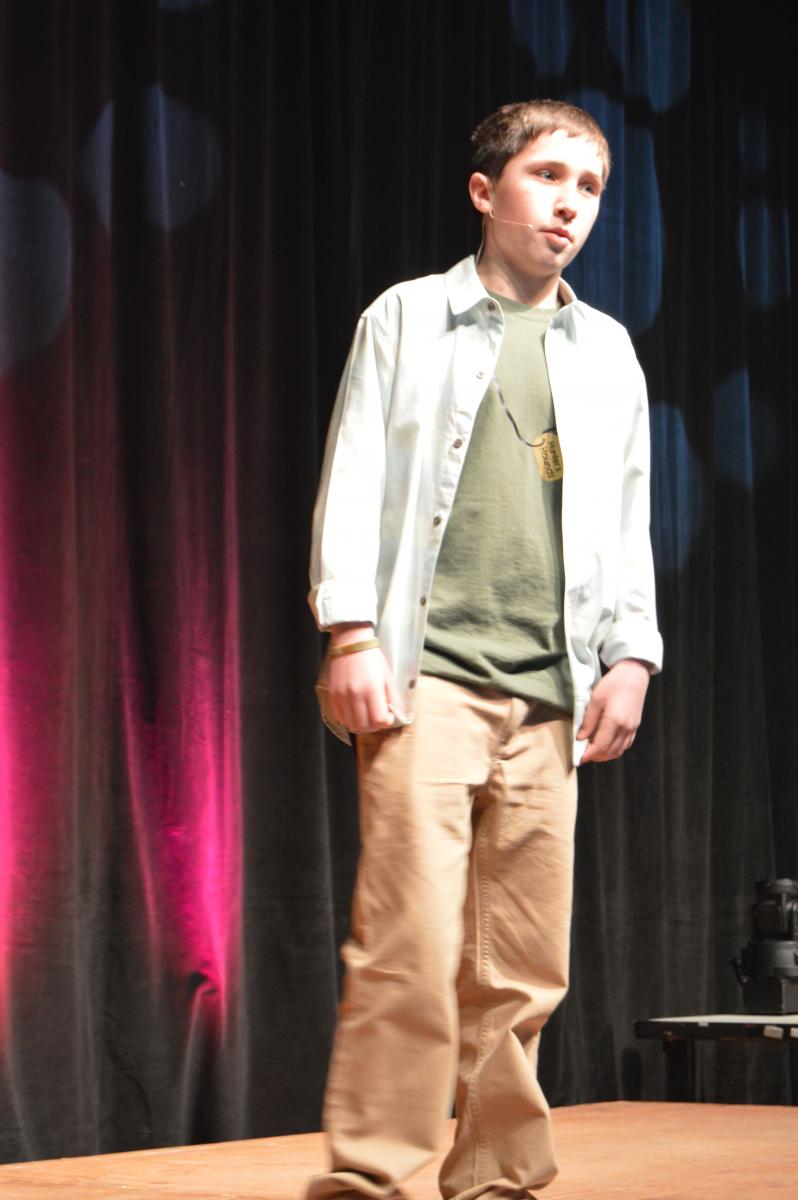 non-profit organization called "Hunter's Hounds."  Hunter is just a typical boy with a heart for humanitarianism. Through "Hunter's Hounds," Hunter sews and donates dog and cat beds to places around the world, including our K-9 heroes in Afghanistan. Hunter is a selfless and passionate young man who wants nothing more than to inspire others to do something kind for those around us.  
Did you notice that Hunter is only in sixth grade? Although he's too young to participate in the St. Joe CEO program, he accepted an invitation to speak at Ignite Michiana alongside the older students because he's passionate about his project and confident about sharing his story.
Hunter also surrounds himself with a great support group. Applauding him from the audience were seven family members —with whose help he's made and donated over 300 pet beds so far—as well as Schmucker's Principal Mr. Sean Galiher, P-H-M Superintendent Dr. Jerry Thacker and several members of the P-H-M School Board!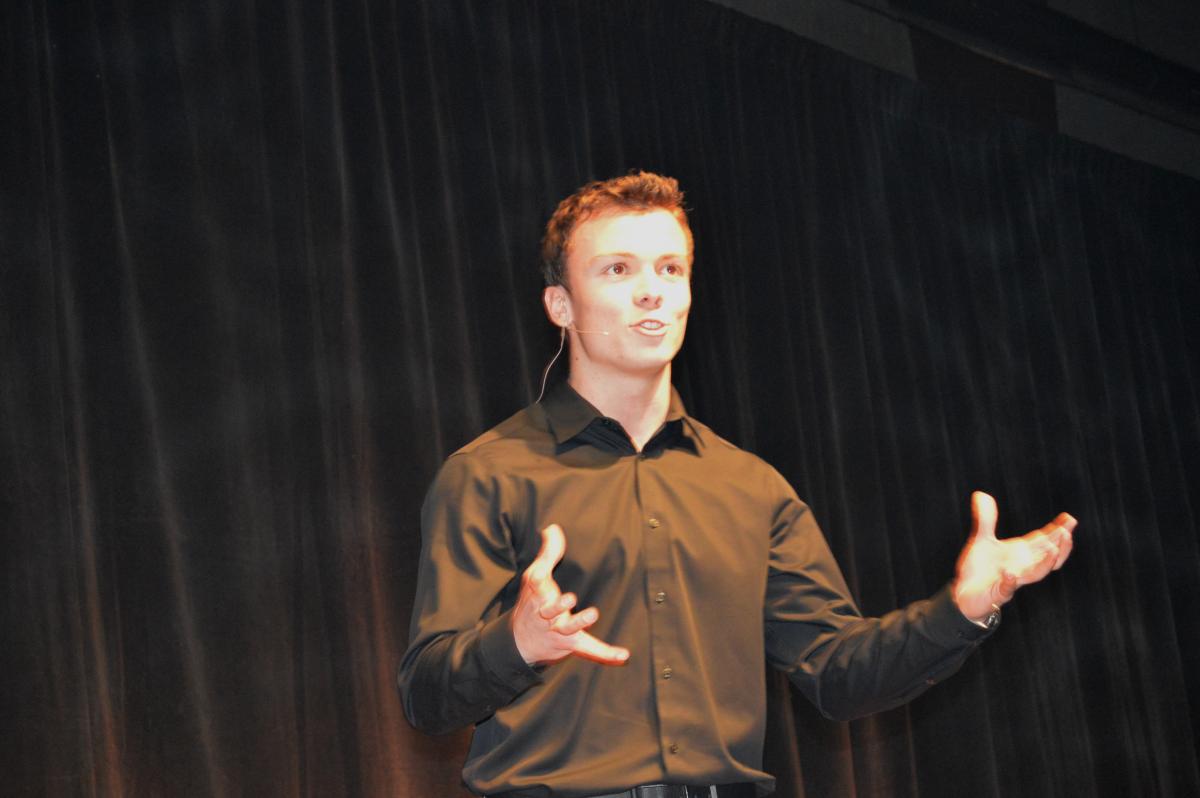 Sam Scholtes was the evening's final speaker and he closed the program on a high note. While telling about the variety of things he's done in his school career, he pointed out the importance of trying new things, the pay-off of courage and confidence, and the value of being part of something bigger than yourself. Sam can add "motivational speaker" to his resume now!
The program notes about Sam: Sam Scholtes is a senior at Penn and will attend Indiana University this coming fall, where he will double major in Accounting and Spanish. Sam will be speaking about his involvement in various activities and the importance of trying new things. Sam plays football and rugby, is involved in 4H, Big Brothers Big Sisters, and the business club DECA. The experiences Sam has been involved in have given him confidence in anything he pursues, and he is excited to earn a degree through the Kelley School of Business.
The 35 students in the St. Joe CEO program will have another opportunity to shine at their May 11 Business Expo. The trade show will highlight the businesses they've launched, and continue to connect them with community members and business leaders who support their success.