Posted: Tuesday, September 23, 2014 - 11:48am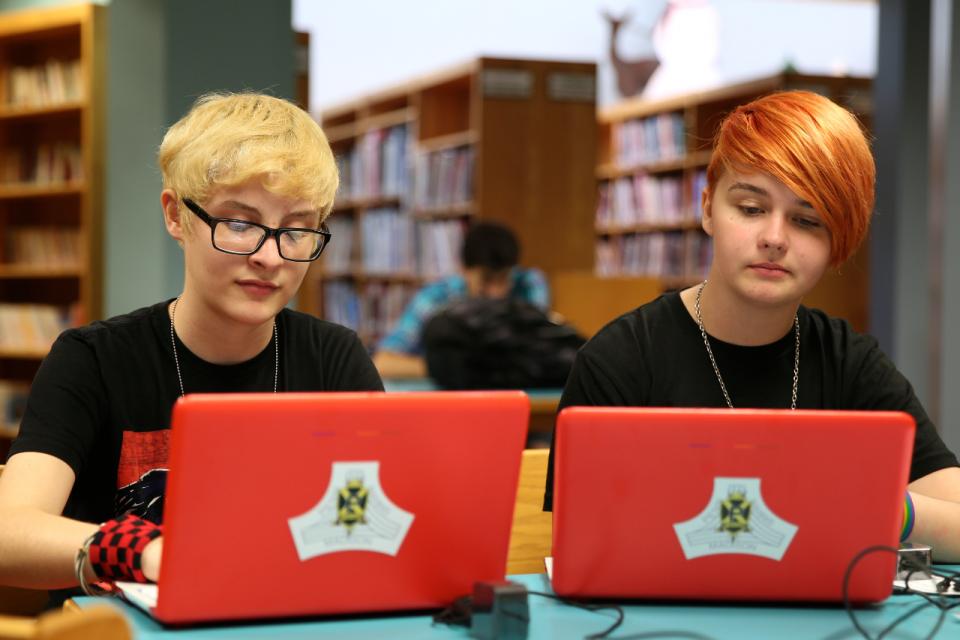 Why Chromebooks?
For our Penn High School digital textbook initiative we are using Chromebooks for the following reasons:
Chromebook is a type of portable device supporting Google's ChromeOS operating system.  
It has several advantages including:
Almost anything that works in the Chrome web browser works on a Chromebook.
It boots up from start to finish in around eight seconds.
It requires few memory and CPU resources, making it inexpensive to run.
It is manageable in our Google Apps for Education management system.
Through management we can easily change security settings, add apps, and require safe usage.
Battery life on most Chromebook devices is from lasts from six to ten hours.
It works with most of our existing software including Learn360, Canvas and Acuity.
It is tightly integrated with Google Apps, allowing students to save up to 30G of storage in the cloud.
The Chromebook we have selected is the HP Chromebook 11. You can learn more about this device by reading this specs and information. 
We like this device for several reasons:

It is of sturdy construction with no moving parts.
The battery life lasts for six hours of use, which is enough to make it through a typical school day with battery to spare.
It is lightweight at 2.3 lbs
The screen is excellent and provides a clear crisp image.
The audio sounds very good, and is aimed at the user, instead of underneath the unit (a typical configuration)
Each unit, including management will cost the school corporation less than $300 dollars. In a lease, it will be less than $250 dollars.
They can be charged with any typical mini-usb charger, like the one found on your smartphone.
All students at Penn High School have received a small laptop (HP Chromebook 11) to be used as an additional educational resource beginning in the 2014-2015 school year. Students picked up the Chromebook with their textbooks at the beginning of the year.
Will students get a new Chromebook every year?
Students will receive a new HP Chromebook the first year, and they will use the same device for three years. At the beginning of the 4th year, students will receive a new device.
Will teachers receive a Chromebook?
No. There is nothing unique about the Chromebook itself. Teachers should simply use the Chrome browser and access the Google Store with their current laptops. Google Chrome, Googledocs, and Canvas can be accessed from any computer. 
Will parents be charged for the Chromebook?
The charge for the Chromebook will be shifted from textbooks fees to the Chromebook. Students will be charged approximately $80.00 per year for the Chromebook.
Will students still use textbooks?
Students will continue to check out textbooks for the 2014-2015 school year and use them in addition to the Chromebook. PLCs will make a determination about the future use of current textbooks. Some textbooks will be kept in classrooms and not issued to students. 
What happens if the device gets broken or stolen?
Parents will be responsible for broken or stolen devices.  It will be treated just as textbooks. PHM will supply repairs at the cost of the parent.  Cost can be deferred through an optional insurance program.
Can parents purchase additional insurance to cover costs?
Parents will be able to purchase an additional self-insurance plan for  $20.00. In exchange for a payment of $20.00, PHM agrees to make a TWO repairs to the Chromebook. Parents have received via mail information about insurance.
Can students bring the Chromebook home?
Yes, students may take the device home to work on assignments, research, and collaborate. Students are also to make sure that their device is fully charged for the beginning of each school day.
Do students have to use the digital device?
Just as with other textbooks and supplies, all students will receive the Chromebook and are expected to use the resource as instructed.
When will parents receive more information?
This information will be placed on the PHM website and updated as new information becomes available. All parents have received a mailing with Chromebook information.
How can students secure their Chromebooks?
Student Chromebooks will be locked with the student's Google account login and password.  If a student needs to step away from their Chromebook, they can use the screen lock feature of Chrome to keep their work password protected.
How will Chromebooks be supported?
Students and teachers will receive support and help from trained student techs throughout the day. Students trained in Computer Network Support will be available every block to assist with technical needs and repairs. Complicated repairs will be completed off site and a loaner computer will be made available.
Will Pennway students receive Chromebooks? Yes.
Will Night School students receive Chromebooks? No.
How much will it cost to replace a lost Chromebook or a Chromebook damaged beyond repair? $292