Posted: Friday, May 15, 2015 - 8:57am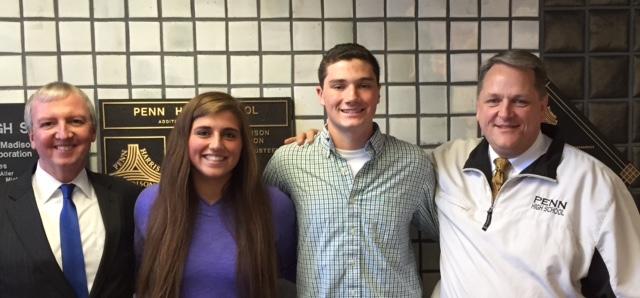 Penn Senior Recognition night was held May 11. Hundreds of students from the Class of 2015 were named for honors ranging from academic success to community service. Two standouts are Christine Cunningham, recipient of the Kingsman of the Year Award, and Luke Gebbie, recipient of The Schmucker Award 2015. Christine and Luke are pictured here with Dr. Jerry Thacker, Superintendent of Schools, and Steve Hope, Principal of Penn High School. 
Christine received the high honor along with many others, including Freshman Honors, Academic Honors, High Honors, Key Club, Martin's Supermarket Achievement Scholarship, National Honor Society, PHS National Honor Society Scholarship, President's Education Award.  She is also a valedictorian. 
Luke Gebbie received the highly-regarded Schmucker Award, which is given to an alumnus of that middle school who goes on to distinguish himself/herself at Penn High School. Luke's other awards include Academic Honors, Freshman Mentors, High Honors, Tech Honors, Fellowship of Christian Athletes, and President's Education Award. Luke is also receiving a National Buckeye Scholarship and a Provost Scholarship, both from Ohio State University. 
The Class of 2015 boasts 17 valedictorians and 2 salutatorians, all with grade point averages well above 4.0.  
CLASS VALEDICTORIANS ARE: Daniel Solomon Alber, Christine Marie Cunningham, Morgan Mitchell Hurst, Hudson Clay Huth, Andrew Davde Ivaldi, Paul Jihoon Kwak, Peter AudleyLoughran, Emily Anne Meckstroth, Faadil Mohammed Shariff, Julianne Hendrie Smith, Rachel G. Susler, Stephanie Aijing Tapp, Katherine Jane Tornquist, Erin Pamela Vaughan, Kevin LinWang, Madison Joan Woods, and Shelley Sizhen Zhang.  
CLASS SALUTATORIANS ARE:  Julianna Helen Stevenson and Conrad Mast Shreiner. 
To date this graduating class has earned more than $8.5 million in scholarships. The tremendous accomplishments of these talented young men and women can be credited in part to P-H-M's Triangle of Success - Teachers, students and parents working together to achieve excellence. 
May 15, 2015 / 9:00 a.m. EDT