Posted: Tuesday, March 8, 2016 - 3:02pm
By Jill Spencer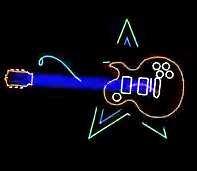 A Laser Show is a high-tech entertainment experience and fun for all ages. Lean back in a comfortable chair under the projection dome, then relax and let yourself be carried away by the dancing lights and great sound tracks that feature some of the best music of the 70's, 80's and 90's. After you check out the classic rock music line-up below, you will want to catch more than one show!
Want to sample it now? Click on any show title in the schedule below for a 15-second preview!
Friday, March 11
Saturday, March 12
Friday, March 18
Saturday, March 19
If you are curious about which songs are included in any of the Laser Shows, here's the play list for all shows.
All Laser Shows are presented at the P-H-M Digital Video Theater & Planetarium, located inside Bittersweet Elementary School at 55860 Bittersweet Road, Mishawaka. Look for the DVT/Planetarium sign on Bittersweet Road (at the entrance drive that's just north of Penn High School), turn in and head toward the baseball diamond. Bittersweet School and DVT/Planetarium parking will be on your left. 
The Laser Shows are 40-50 minutes in length. All seats are $5—including the "double feature" on March 18, which runs a little longer.
Place your ticket order in advance of a show by calling Director Melinda O'Malley at (574) 258-9569 and arrange to pick them up in advance or at the door. If you don't opt for pre-sale tickets, simply arrive ahead of show time and buy at the door—cash only please. While ticket sales are limited to space available, seating is not assigned and patrons select their seats upon arrival. 
After the Laser Show series concludes, the DVT/Planetarium will host 8 additional public shows this spring.
March 23       Cell! Cell! Cell! 
March 30       Earthquake: A restless Earth
April 14          Seven Wonders of the Universe
April 20          Secrets of the Sun & Secret Lives of the Stars
April 27          Wonders of the Universe/Powers of Ten
May 4            Egypt: Secrets of the Mummies
May 11          Spacepark 360
May 25          Summer Night Sky
Click here to get all the spring show descriptions.
No matter your reason for coming to a DVT show—date night, family outing, lifelong learning, love of science, or just a break from your routine!— you will find affordable fun and quality entertainment with an educational edge.