Posted: Thursday, March 3, 2016 - 11:34am
By Lucha Ramey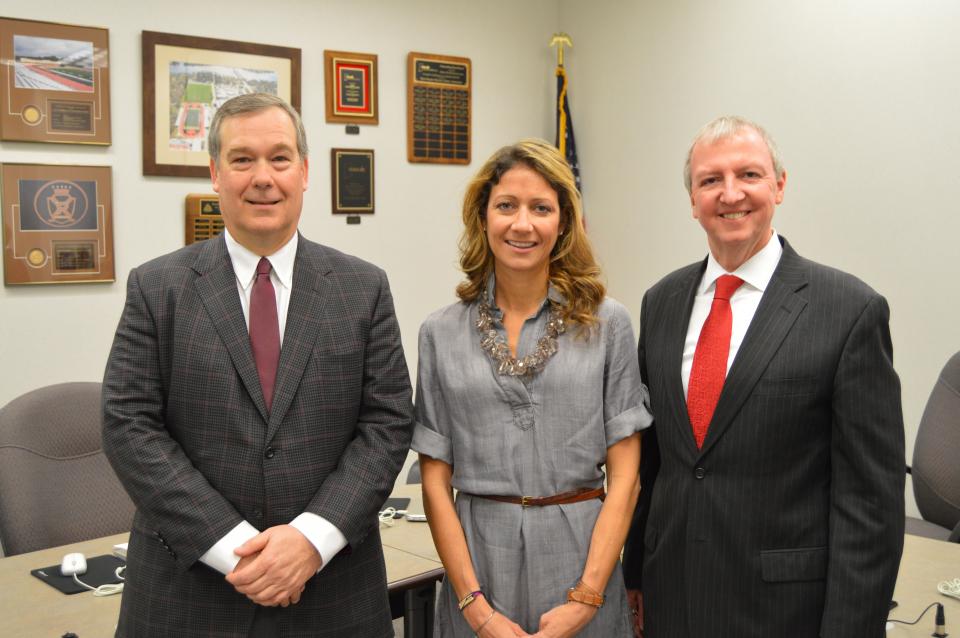 At a Special Board Meeting held Thursday, March 3, 2016, Board of School Trustees President Gary Fox announced the Board's unanimous decision to appoint Mrs. Angie Gates to fill the Harris Township board vacancy created by the resignation of former Trustee Mr. Larry Romero on February 8, 2016.
A graduate of Warsaw Community High School, Gates earned a B.S. in Communication Arts and an Education degree from Taylor University (Upland, Indiana) and worked as a teacher in Puebla, Mexico for two years. Gates, of Granger, has six children in Penn-Harris-Madison schools ranging from Kindergarten to eighth grade (four at Northpoint Elementary School and two at Discovery Middle School). She is actively engaged at both of her children's schools volunteering in the classroom, on various PTO committees supporting extracurricular activities, as well as participating in school trips.
Gates has strong interests in expanded growth opportunities for students outside of the classroom. She traveled to China as part of the P-H-M middle school Experiential Learning Abroad program. On a recent service mission trip to Nicaragua, Gates and her family served at a school and orphanage.  An opportunity Gates says strengthened her commitment to bring cross-cultural opportunities to all students.
"Community partnerships that allow for experiences in real life settings excite me," said Gates. "Making enhanced education opportunities available to all interested P-H-M students is a priority of mine. As the newest member to the P-H-M Board of School Trustees, I will work to support and contribute to the continued momentum and success of our great school District."
"What impressed the Board the most about Mrs. Gates is her commitment and passion as a P-H-M parent," said Board President Gary Fox. "With several children in the District at various levels, Mrs. Gates has great first-hand knowledge of our schools. Her time and commitment to her own children's education proves that she will also work tirelessly for all P-H-M students."
Superintendent Dr. Jerry Thacker noted, "Parents are the backbone of P-H-M's 'Triangle of Success' and why it works so well. Mrs. Gates exemplifies parent involvement. Not only is she actively engaged with her own children's education, but she enthusiastically lends her time and passion to support our entire school system dedicated to seeing all students succeed. She's a great addition to the P-H-M Board."
As a Board Appointee, Gates will serve the remainder of Mr. Romero's term, which runs through December 31, 2018. If she wishes to seek reelection, she will run in November 2018.
Gates will be officially sworn in at the next regular Board Meeting which will be Monday, March 14 at 7:00 p.m. This meeting will take place at Prairie Vista Elementary, 15400 Brick Rd., Granger, Indiana. A full schedule of Board Meetings can be found on this page of our website at https://www.phmschools.org/board-meeting-dates.