Posted: Tuesday, March 1, 2016 - 8:23am
By Jill Spencer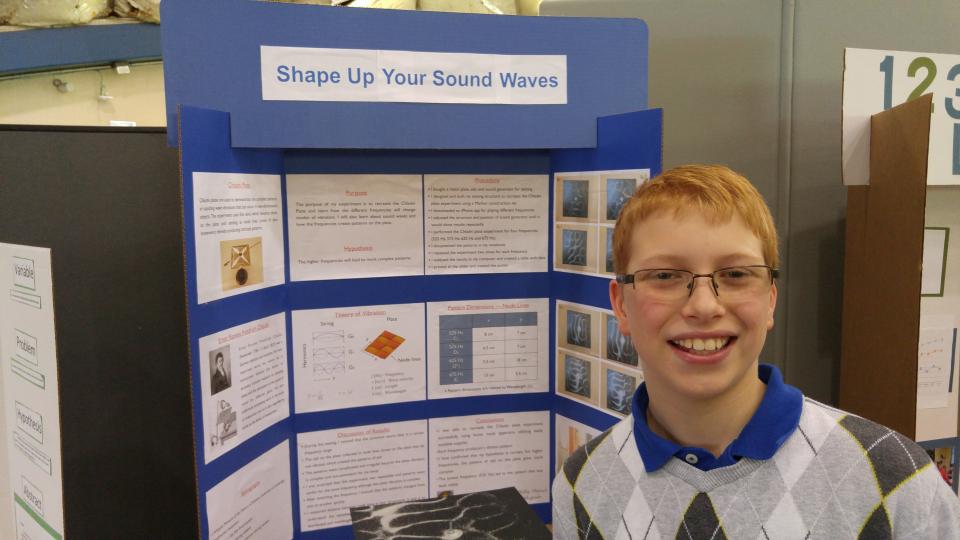 Judging by the work of P-H-M students at Saturday's (Feb. 27, 2016) regional science fair, the future of science looks bright, and our STEM programs are attracting more female students! Twenty-two P-H-M students, representing eight of our schools participated, earning 33 awards overall.  Six of those entrants were male students; 16 were female students.
The Northern Indiana Regional Science and Engineering Fair (NIRSEF) is hosted annually at the University of Notre Dame. Students must first exhibit their work at a school fair, and then their project is entered into the regional competition by a teacher.  Every entry must meet strict requirements based on INTEL's nationally-recognized rubric for judged science/engineering events.
Science fair projects are an amalgamation of reading, writing, mathematics, statistics, logic, critical thinking, computer science, graphic arts, scientific methodology, and even public speaking—all accomplished by self-directed students in pursuit of the discovery of new knowledge.  It's an exciting process!
Students vie for recognition on three levels at NIRSEF.  Regional standings of 1st, 2nd, 3rd place and Honorable Mention are awarded within each category of competition. Additionally, "independent awards" are granted by independent agencies with specific interests, such as the U.S. Army and NASA. The third award arena is known as "special awards," these being the ones that advance to state and national competition. Thus, a student may earn more than one award for a single research/presentation project, as happened for 9 of the P-H-M participants.
Entries by three of the P-H-M participants have been selected to advance to the Hoosier Science and Engineering Fair to be held April 2 at IUPUI in Indianapolis. Those three students are highlighted in the list of regional winners below.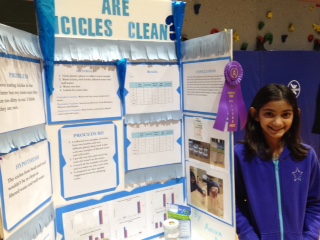 Congratulations to these Penn-Harris-Madison students for their awards—and their contributions to science!
​HORIZON ELEMENTARY SCHOOL
Alex Leung, Grade 4: Parachutes
Caroline Johnson, Grade 4: The Blue Bird Trail
Brianna Taylor, Grade 4: Plastic Made From Milk
MADISON ELEMENTARY SCHOOL
Caroline Bontrager, Grade 4: Can Dog Drool Kill Germs?
Kaylee Weaver, Grade 5: Does the Temperature of the Water Affect the Width of the Tornado?
MARY FRANK ELEMENTARY SCHOOL
Nadalyn Gerwels, Grade 5: Which Type of Sunscreen Protects Your Skin Best?
NORTHPOINT ELEMENTARY SCHOOL
Anika Amin, Grade 4: Are Icicles Clean? (2 awards)
Arda Kurama, Grade 5: Are There Patterns in Bridge Deflections?
Cole Klinedinst, Grade 5: Effects of Temperature on Strength of a Magnet (2 awards) Will compete at the state level!
PRAIRIE VISTA ELEMENTARY SCHOOL
Name withheld, Grade 4: Brown vs. Green, Carbon:Nitrogen Balance in Composting (2 awards) Will compete at the state level!
Larissa Evans, Grade 5: Left or Right? (2 awards)
Sydney Szklarek, Grade 5: Can Magnetic Fields Magnify the Medical Effect? (3 awards)
Reagan Ludwig, Grade 5: Can A Healthier Cookie Be As Tasty?
Faisal Syed, Grade 5: The Effect of Antioxidants on Drosophila Melanogaster Longevity (2 awards) Will compete at the state level!
DISCOVERY MIDDLE SCHOOL
Wilson Shrout, Grade 7: Magic or Math?
SCHMUCKER MIDDLE SCHOOL
Phillip Matous, Grade 6: Shape Up Your Sound Waves
Lorelei Fluckiger, Grade 7: Breathe! (2 awards)
Arianna Hardy, Grade 8: The Science of the Bloodstream: Blood Vessels and Artery Constriction
Anjelica Zitto, Grade 8: The Science of the Bloodstream: Blood Vessels and Artery Constriction
Grace Julian, Grade 8: Orange You Glad You Can Sleep at Night? (2 awards)
Kayla Leady, Grade 8: Orange You Glad You Can Sleep at Night? (2 awards)
PENN HIGH SCHOOL
Daraius Balsara, Grade 10: What the Beetle Gut Can Tell Us About Becoming Freeze Tolerant