Posted: Tuesday, September 1, 2020 - 6:00pm
The letter below was sent by Superintendent Dr. Jerry Thacker to parents on Tuesday, Sept. 1, 2020.
Dear P-H-M Families,
Last night (Monday, August 31) the P-H-M Board of School Trustees unanimously approved a "Return to Learn" plan to bring students back to the classroom in phases, for those families who want to return to in-person learning, starting in two weeks:
Sept. 14

, In-Person Learning for Elementary grades, PreK - grade 3

Sept. 21

, In-Person Learning for Elementary grades 4 & 5 

Sept. 21

, Hybrid model, a blend of In-Person and Virtual, for Middle and High School students (grades 6-12) 

Parents at all grade levels

will still have the choice

to keep their students 100% Virtual if they so choose.


 
Later today, Principals will be emailing parents an "Intent to Return Questionnaire" that will cover the following areas for parents to respond:
Identify the learning model for their students (In-Person for PreK-grade 5; Hybrid for middle & high school; or remain 100% Virtual)

Intention to use P-H-M bus transportation  

Intention to utilize Kids Club (before & after school care for elementary students). The Kids Club Director will share more details later this week about the program.
All students and staff will be required to wear a mask while at school. Accommodations will be worked out with the Teacher of Record for Exceptional Education students to allow for maximum safety for both staff and students.
Any student with an IEP, including those enrolled in PennPALS and the Young Adult Program, will be receiving specific information about their individual programming. Each family will hear from their child's Teacher of Record, if they haven't already, or participate in a case conference with any potential changes.
PreK parents will receive information from PennPALS and Early Learning Academy.
Below is a graphic of the detailed schedule with school day start and end times. You can click the image below to print it off.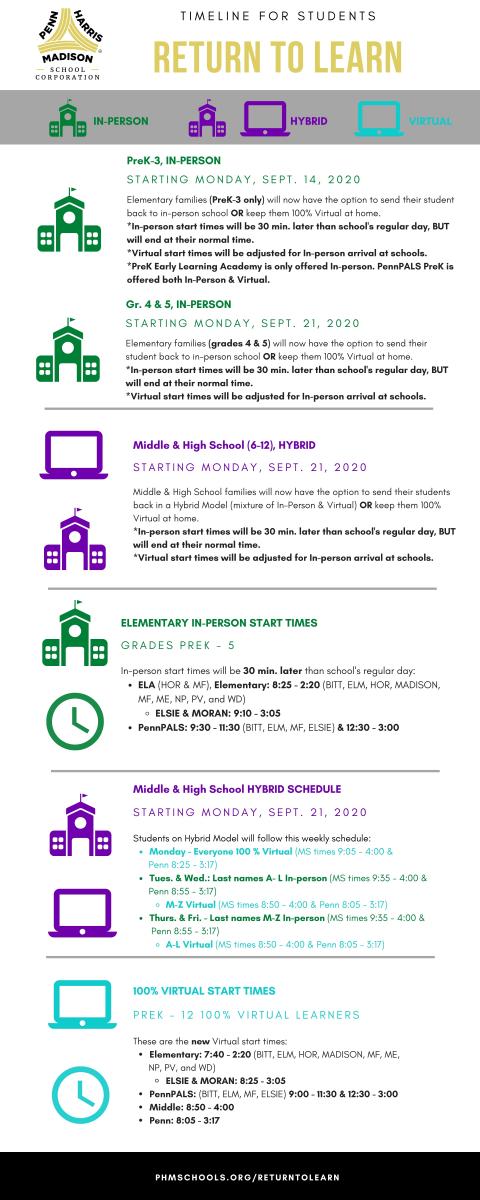 *Please note that because In-Person school start times are being pushed back 30 minutes, this means that bus pickup times will also move back @30 minutes from the typical grade level pickup time. More details will be communicated by principals.
P-H-M Administration and the Board of School Trustees made the decision to utilize all three learning options (In-Person, Hybrid and Virtual) after consulting with the St. Joseph County Dept. of Health (SJCDH). For several months, we've been working with and following their guidance as part of our planning for the safe return of students. Then just last Wednesday, August 26, school districts and local officials across Indiana received further recommendations from Governor Eric Holcomb and the Indiana State Department of Health (ISDH). Indiana's county by county metric system was released as part of Indiana's "Back on Track" plan to further guide school systems across the state. 
The state's color-coded metric system (which will be updated weekly) has St. Joseph County in the ORANGE category, indicating moderate to high community spread. The state's recommendation for this level states grade schools can operate In-Person and strongly recommends Hybrid learning for middle and high school students. If the state's metrics change colors, P-H-M will make appropriate modifications normally within 2 weeks.
We realize that the decision to return your student to school for in-person learning is a personal/family decision. P-H-M is committed to providing the safest environment for our students and staff. It allows for those students who wish to return to the classroom to do so safely, while also giving families the option to remain home if they desire. After working with SJCDH, this plan was discussed with and accepted by the  P-H-M Teachers Association before moving forward making the recommendation to the School Board. Safety has always been P-H-M's top priority! Click to read a summary of some of the student and staff safety measures we've put into place over the summer. 
Principals will also be sharing their individualized school "Return to Learn" safety plans today in their emails to parents.
For parents that choose to have their students return to the classroom, it is absolutely essential for them to monitor their students' health EACH MORNING BEFORE sending them to school. Last week, the ISDH released new guidance in regards to COVID-19 symptoms and screenings. We strongly encourage parents to use this screening tool. For the safety of our schools, please do not send your children to school if they are displaying any of these symptoms.
For families' planning purposes, please note that next Thursday, September 10 and Friday, September 11 all students at all grade levels will be doing independent eLearning vs. the interactive Virtual Learning that's been taking place. This is to allow time for teachers to prepare their classrooms and lesson plans for September 14 and 21.
In closing, I just want to acknowledge that Board Members and I know the start of this school year has been hard on families and a heavy lift for teachers, principals, administrators, support staff, custodial staff, food service staff, and bus drivers just to name a few. The Board and I are very proud of our teachers and staff who have remained dedicated in facing the challenges associated with trying to educate our students during a pandemic. We've had to go back to the drawing board many times to redesign our re-entry plan for the start of the school year. We are 100% devoted to providing the best education to our students in a safe and healthy environment. We know this has been a hardship for many families and being the at home teacher for your children these past several months has not always been ideal. We are thankful for your continued partnership in P-H-M's Triangle of Success, connecting teachers, students and parents.
Stay healthy and well.
Sincerely,
Dr. Jerry Thacker
Superintendent of Schools