PHM RECOGNIZED IN SECURITYMAGAZINE.COM
"Security" magazine has ranked Penn-Harris-Madison #6 safest school corporation for 2020 among all K-12 school districts in the nation.  This is the second consecutive year with a ranking in the top 10! 

---
PHM #6 AMONG NATION'S SAFEST K-12 SCHOOLS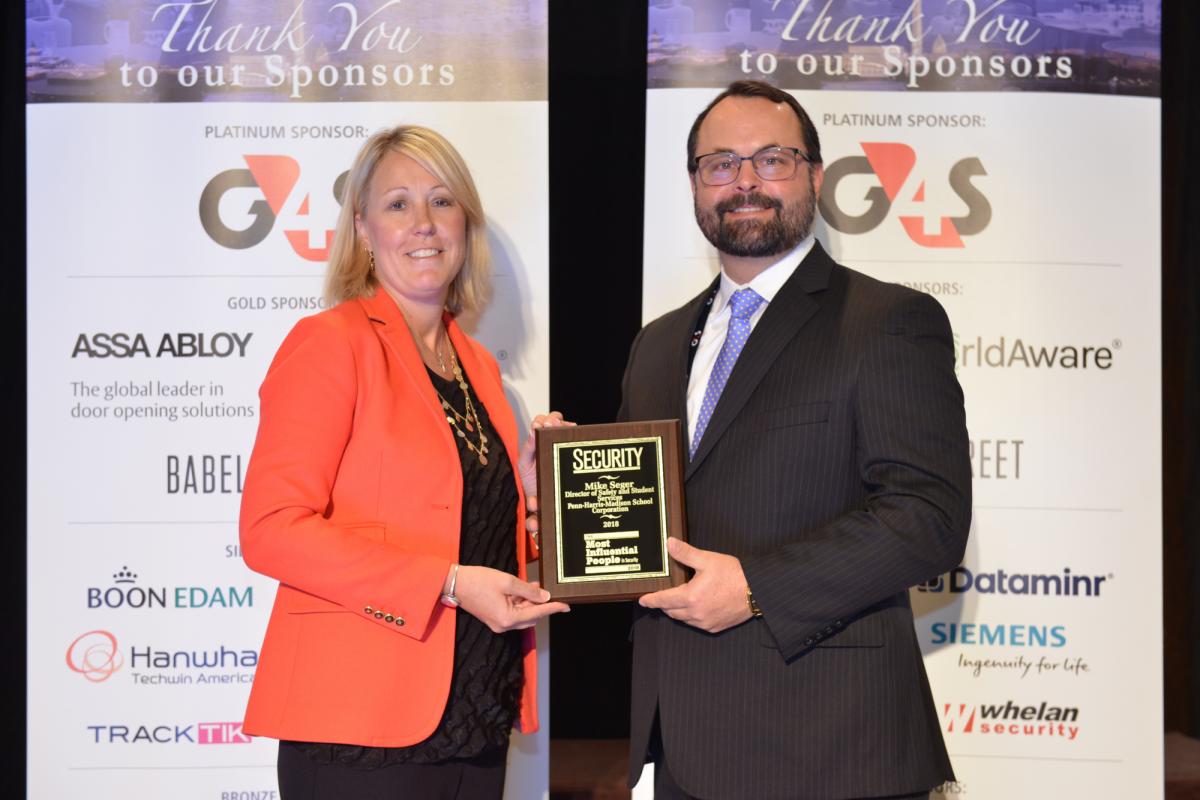 Mike Seger, Director of Safety and Student Services was recognized in the September 2018 Issue of Security Magazine as one of 17 security professionals recognized as "The Most Influential People in Security 2018". This is the second national recognition Mike has received in the past 5 years. Each year, Security Magazine honors top security executives and industry leaders who are making a difference in the security profession, in their organizations and in their communities. The 17 individuals selected, including corporate security leaders, government officials and more, are driving change and elevating security, making them the Most Influential People in Security. https://www.securitymagazine.com/articles/89358-the-most-influential-peo... 
---
PHM SECURITY RECOGNIZED FOR LIFESAVING EFFORTS
Before the Oct. 29, 2016 Penn High School football game, two P-H-M heroes were recognized. School Resource Officer Mike Reppert and VSS Security Supervisor Rockie Dodds were presented with a special award provided by the Indiana State Suicide Prevention Advisory Council as a result of their efforts in Suicide Prevention in our school community.  
This award is only one of three awards provided by the Indiana State Suicide Prevention Council in 2016.  Because of their actions, they made a difference in a student's life.  
If you know of someone who needs help, please visit the Lifelines section of our website, at www.phmschools.org/lifelines, for resources. 
---
EDUCATIONAL INTERIORS SHOWCASE: THREE LAYER SECURITY DESIGN
The publication American School & University (ASU) featured the "commons area" just inside Penn High School's main entrance in its annual "Showcase" issue (August 2016).  The design successfully combines an open attractive space to welcome our community along with three layers of security to assure staff and students' safety.  This three-layer approach has been implemented at all 15 P-H-M Schools.  
P-H-M Safety Director Mike Seger and P-H-M Director of Facilities Tom Hartman worked closely with the architectural firm Fanning Howey and the safety experts at Honeywell to achieve the design.  Learn more about Penn's "Outstanding Design" designation in the ASU article. 
---
GOV 30 AWARD
P-H-M Director of Safety and Student Services Mike Seger conducts national webinars and writes blogs for Security Today Magazine on school safety. In addition, he was recognized with a Gov30 Security Award from 1105 Media and Security Today Magazine at the Washington Convention Center. The Gov30 award recognized thirty leaders across the country for their contributions to the government security community and the difference they made in securing critical infrastructure, key assets and the homeland. 
Security Today is the industry-leading security products magazine, enewsletter, and website for security dealers, integrators and end-users. For more information go to Security Today.
---
SECURITY TODAY COVER STORY
The November 2013 issue of Security Products Magazine featured the article "Standing Above the Rest" by Ralph C. Jensen. "There are some schools and campuses that have prepared themselves so well above others that they are virtually a beacon on the hill in terms of security. Not only are they prepared, but they also know that threats are to be taken seriously, as no one is immune from an incident." Here is the link to the digital version of the "Standing Above the Rest" story. Embedded in the digital version is P-H-M's Safety and Security Construction Update.  In addition, the author Ralph C. Jensen wrote comments about P-H-M in this article.
Here's a link to the PDF of the article with the cover photo of Director of Safety and Security Mike Seger and Superintendent Dr. Jerry Thacker.
---
HONEYWELL USERS GROUP ADVISOR
P-H-M Director of Safety and Student Services Mike Seger serves as a member of the national Honeywell Users Group Steering Committee.  P-H-M utilizes Honeywell products for access controls and digital video management.  P-H-M partners with Honeywell experts on safety and security initiatives.